Art History, For The Win!
hrrrthrrr.tumblr.com
A real world application of art history if ever I saw!! *sigh* Art history nerds make me so happy.
Fright Night
So, how was everyone's Halloween? Good, good. I went over to my friend Gabby's house and watched scary movies with her and Emily and Amber. The feature films were:
Dawn of the Dead: a really good gore movie. Some parts were just messed up, in my opinion. I'm not a big horror fan but this one just seemed more gory than scary, which I liked.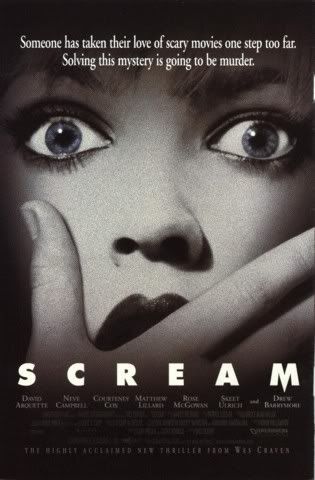 Scream: Yeah, some parts are really corny, but over all, it's a really good movie. I'm sure everyone else has already seen this, but that was my first time seeing it all the way through. Good jump scenes, decent amount of blood and stabbings and psychosis. My personal favorite of the night. And it's the movie that got Courtney Cox and David Arquette together, so if you don't actually like the movie, you can appreciate for bringing together my favorite Hollywood dynamic duo ever (yes, more than Brad and Ange. I actually don't like them much at all. However, a very close second goes to Kurt Russell and Goldie Hawn).
House of Wax: A remake of an old Vincent Price flick, which I have not seen, but would certainly like to because Vincent Price is the biggest horror movie creeper next to Bela Lugosi and Lon Chaney. But I digress. This movie is sufficiently creepy, again, even if some parts are corny. Like the face peeling. I don't think that's a spoiler... no, it's not. I do like how the relationship between the twins changes and how Chad Micheal Murray becomes a badass. The backstory is so strange and didn't really make that much sense to me. Too bad Paris Hilton isn't a better screamer because I may have liked her in her role then. But whatever.
Oh, Owl City played in Austin October 30th and I really wanted to go, but I didn't get tickets in time. I'll definitely catch him next tour. Adam Young is my hero. I would like to marry him, I think. Just sayin'.
Shopping!
I really want to go shopping. Here's what I'd look for:
- larger purse of color (mustard, green, blue, etc.) with lots of buckles and strings and complex things
- stuff with some sort of print. I swear that almost all of my clothes are solid colors. I'll take plaids, animal print, stripes, graphics. Anything!
- some of those oxford ankle boots that lace up in the front. Black patent leather like these, $20 at Target!
I would definitely wear these with some patterned tights and a waist skirt, topped off with a cardigan. Too bad that's a bit dressy for C Stat, what us Aggies lovingly call College Station.
November 3, Silver Taps
Tuesday night is Silver Taps. I'm pretty sure I'm going to go to this one since I don't have any tests this week and I haven't been in a while and it's a really nice way to spend a Tuesday night. This is why I love A&M; things like Silver Taps that make you feel that you are a part of something so much bigger than yourself and you have the support of everyone on campus. I'm going to hate to leave in four years.